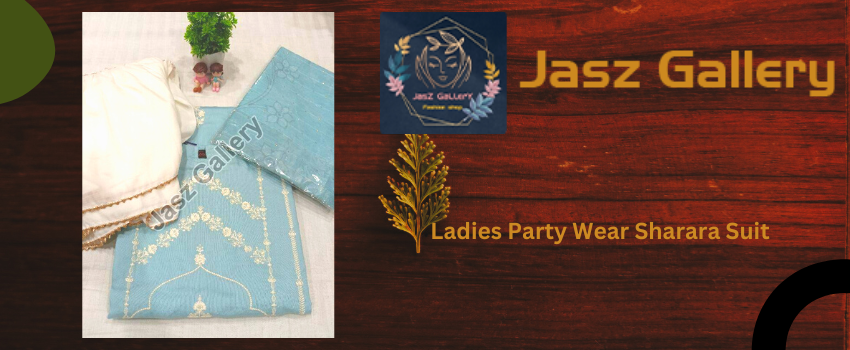 We live in an era where people are very conscious about their attires be it in the matter of comfort or fashion. Different types of dresses are designed for different purposes however, people invest their time very thoughtfully while selecting the party wear dresses. Due to the upsurge in western dresses in the past couple of years, people have again understood the value and appealing magnitude of the traditional and cultural dress from the scratch.
Ladies Party Wear Sharara Suit
A Sharara suit is a dress where a short Kurti is preferably worn with the pant having wide legs below the thighs. This is a very attractive combination and people in the Indian sub-continent and Pakistan wear them extensively on auspicious occasions.
This dress is worn by a large population of women irrespective of their age and certain are available in various colours and design options. Not to mention that these suits are available in several fabric textures with shiny and attractive decoration work on the same.
This is one of the best options available in the market which reflects the best possible representation of femineity. However, one can get some customised touch on the dress in some notch and corners if want and get fit in to look best of themselves.
Prime Reasons For Its Preference Over Others
There are several reasons why ladies choose the sharara suit as their top priority at parties and other special occasions and the major one of them are mentioned below:
1) Comfortable: One of the foremost reasons for ladies prioritising the sharara suits as the topmost party wear suit is that they are highly comfortable and convenient to wear. Being so much as the regular attire with the blew down pants it supports the good air ventilating throughout the body and even helps in the high-temperature seasons.
2) Tempting Appearance: This attire is highly attractive and one can not take their eyes off the person who wears it. This is one of the dresses exhibiting the fundamental beauty of the ladies altogether. This very characteristic of the suits makes it a highly suitable choice for events.
3) Various Designs and Colour: A good amount of choice can be executed for the sharara suits as the ladies' party wear sharara suit suppliers are successful in providing the same in many colours, designs and fabric options.
4) Cost-effective: These suits are highly affordable in the market, especially when compared to other options available. These aesthetic dresses are not only comfortable but also appealing to the economic purchasing rates.
So, all these above-mentioned traits make the sharara suits the topmost choice of ladies for party wear. However, one must choose the finest ladies' party wear sharara suit manufacturer who does not even settle the ounce of their quality and provide the same at the most competitive and economic prices. So, it's time to excel in business by providing the standard quality product in the public domain.